Blog / News
World Sight Day 2021
World Sight Day is an awareness day coordinated by the International Agency for the Prevention of Blindness (IAPB). This year the IAPB are using World Sight Day to encourage everyone to think about the importance of their eye health with their theme 'Love Your Eyes'.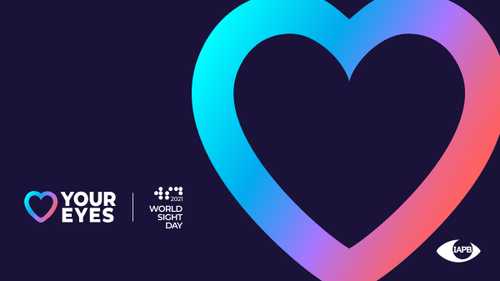 Your eye health is important, and deterioration can impact education, employment, quality of life, poverty and many more aspects of your life. There are several things you can do daily to love your eyes, and these are outlined with the 4 P's, prevent sight loss, protect, preserve, and prioritise your vision.
Prevent
Many eye conditions can be prevented by following a healthy lifestyle. This includes:
· Eating a balanced diet rich with nutrients that will benefit your eye health
· Cutting down on smoking and drinking alcohol
· Maintaining a healthy weight with healthy eating and regular exercise
· Maintaining normal blood sugar, blood pressure and cholesterol levels
The combination of these lifestyle habits will help to boost your eye health and delay the onset of eye related conditions such as age-related macular degeneration, cataracts, and diabetic retinopathy.
Protect
A healthy lifestyle can prevent the onset of several eye conditions, but it is also important to protect your eyes from environmental factors such as UV exposure, DIY accidents and more.
· Protect your eyes from UV radiation with a good quality pair of sunglasses.
· If you are doing DIY or working in an environment where you are exposed to hazardous chemicals, debris, and excessive heat you must use protective eyewear.
· Dispose of any eye cosmetics that are past their expiry date, have changed in consistency or have been used during a period of infection. It is also recommended to maintain a good cleaning regime of your makeup tools such as brushes.
· Take regular breaks from screens and devices to avoid eye strain, headaches, and dry eye.
Preserve
The best way to preserve your vision is with regular eye examinations. Using state-of-the-art technology our optometrists can obtain detailed information about the health of your eyes, through scans and 3D images. This allows the optometrist to assess the overall health of your eyes, monitoring them at each appointment for any changes and detecting eye conditions such as glaucoma and macular degeneration in their earliest stages.
Prioritise
Prioritise your eye health by ensuring regular eye examinations are part of your routine and attend your eye exam when advised by your optometrist alongside maintaining a health, balanced lifestyle.
For more information about eye examinations and protecting your eye health contact your local MKO today.
More From The Blog
Catch up with the latest in eyecare and eyewear