Blog / Eye Health
Sun Awareness Week 2022
2nd May – 8th May is Sun Awareness Week.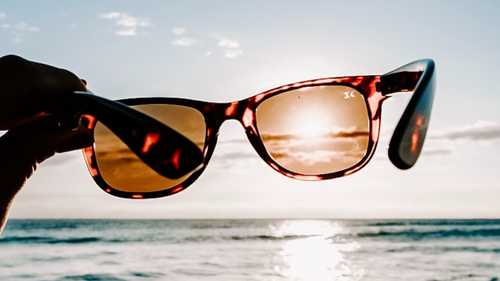 2nd May – 8th May is Sun Awareness Week. This week is organised by the British Association of Dermatologists to raise awareness about the importance of sun protection, prevention, and early detection of conditions such as skin cancer.
In the same way UV radiation can damage your skin, it can also lead to cancers on the eyelids, premature ageing of the skin around the eyes and can lead to the development of eye conditions such as cataracts, macular degeneration and photokeratitis. Protecting your eyes from UV is important and by embracing simple steps, you can enjoy the outdoors safely while taking care of your eyes and the skin around them.
· Wearing sunglasses all year round protects your eyes from UV rays. Oversized sunglasses cover a wider area of your eye and the surrounding skin, wraparound sunglasses will provide protection from the sides.
· Choose sunglasses that block 100% of UV. All sunglasses sold in the UK should bear the CE mark and state they are in the UV400 category.
· Wearing a hat with a brim will help to protect your face and the top of your head. Hats can help shade your eyes from the sun and block up to 50% of the UV rays you are exposed to.
· Wearing sunscreen on your face will help to protect your skin when you need to remove your sunglasses. There are lots of face creams now available containing SPF and face specific sun creams.
· UV is always present, even on a cloudy day so sun protection is important whatever the weather.
· Water, snow, and sand are highly reflective surfaces with around 80% of UV rays and sunlight reflected off these surfaces penetrating your eyes and skin for a second time.
· UV intensity increases with altitude, so when skiing, snowboarding or hiking take extra care to protect your eyes.
Keep yourself and your loved ones protected with adequate UV protection all year round.
For more information about sunglasses and UV protection, visit your local MKO today.
More From The Blog
Catch up with the latest in eyecare and eyewear