Blog / Eye Health
Our Eye Examinations
Your eye examination is an important part of your healthcare routine, much like going to the dentist.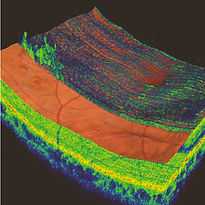 Attending an eye examination isn't just about your vision and updating your prescription, it can also tell us a lot about your overall eye health and detect a range of common eye conditions.
At MKO we offer a range of eye examination options for both private and NHS patients. NHS appointments are only available to those who fit one of the exemption criteria which includes children under the age of 19, over 60's, diabetics and a few more which you can find on our eye examinations page.
The two main eye exams we offer our patients are the Essential and Essential Plus exams. The Essential exam is our entry level eye examination and includes fundus photography. This is where we take photographs of the back of the eye showing our Optometrists a picture of your retina, retinal blood vessels and optic nerve. These photos can show any abnormalities such as macular degeneration, diabetic retinopathy, and glaucoma, and provide our Optometrists with a visual timeline of your eye health.
The Essential Plus exam includes fundus photography and OCT. OCT, or Ocular Coherence Tomography is an advanced scan for people of all ages. This scan uses light to photograph the different layers that make up the structure of the eye, creating a 3D image. These images provide a much more detailed view of the eye allowing for instant and early diagnosis of common eye conditions.
By attending your eye examinations as recommended by your Optometrist, we are able to monitor your eye health and detect any changes. Both eye examinations are available as a top up for those who are eligible for an NHS eye examination for an addition fee.
For more information about our equipment or eye examinations head to our 'Eyecare' section or contact your local MKO.
More From The Blog
Catch up with the latest in eyecare and eyewear