Blog / Eyewear
Brand Of The Month For April - Guess!
Lets talk about Guess - our Brand of the Month for April!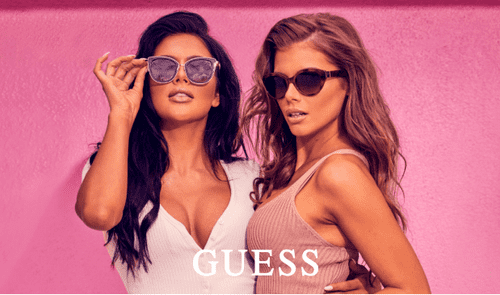 Guess Eyewear is a popular brand of designer eyewear that offers a wide range of stylish and contemporary eyewear products for both men and women. The brand is known for its trendy and fashionable designs that are perfect for those who want to make a statement and stand out from the rest with their eyewear.
The Guess Eyewear collection includes a variety of eyeglasses, sunglasses, and prescription eyewear. The optical frames range from classic and timeless styles to more modern and bold designs. They come in a variety of shapes, including round, square, and rectangular frames, and are available in different materials such as acetate, metal, and plastic.
In addition to optical frames, Guess Eyewear also offers a range of sunglasses that are perfect for protecting your eyes from the sun and harmful UV rays while still looking fresh.
The sunglasses collection includes a large variety of frame shapes, lens colours, and materials. They are available in classic styles such as aviators and wayfarers, as well as more unique designs that are perfect for making a statement and catching the eyes of others around.
One of the things that sets Guess Eyewear apart from other eyewear brands is its attention to detail.
Each pair of eyeglasses or sunglasses is carefully crafted with high-quality materials and precision engineering. This ensures that each pair of glasses is not only stylish but also durable and long-lasting.
Overall, Guess Eyewear is a brand that is known for its fashionable designs, high-quality materials, and attention to detail. Whether you are looking for a classic pair of eyeglasses or a bold and unique pair of sunglasses, Guess Eyewear has something to offer for everyone.
If you'd like to browse the Guess brand for yourself, stop by our Firth Park, Herries Road, and Stocksbridge practices today!
More From The Blog
Catch up with the latest in eyecare and eyewear