Blog / Contact Lenses
Contact Lens Safety
When it comes to wearing contact lenses it is important to ensure you are using them correctly and taking care of them in a proper and hygienic manner.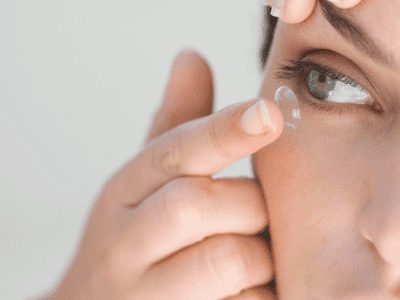 Contact lenses are fantastic for many reasons, whether you're looking for complete freedom from glasses, or want to use them on the odd occasion, but to enjoy them you do need to look after them correctly to reduce the risk of infection and damage to the eye.
There are a few simple best practices you can follow to ensure you are using your contact lenses safely and correctly.
1. Don't overwear your lenses. Wearing your lenses past their recommended wear time is not recommended. Overuse can cause the lens to degrade, and protein to build up on the eye leading to allergic reactions and a reduction in the oxygen permeability of the lens.
2. Do not put your contact lenses in water. There are two reasons not put your contact lenses in water, the first being that water can change the shape of soft contact lenses and cause them to swell and stick to the cornea. The second reason is that bacteria found in water can get stuck under contact lenses and lead to serious infections. Despite these types of infections being rare, they can be extremely painful and in extreme cases lead to blindness!
3. Clean your lenses. Cleaning your reusable contact lenses daily and correctly reduces the risk of infection, irritation, and inflammation. It is important to ensure you have washed and dried your hands thoroughly before you handle your lenses. Another tip is to insert your lenses before applying makeup and remove them before taking your make up off.
4. Keep your case clean. Your contact lens case should be as clean as your lenses, if not layers of bacteria can build up, potentially infecting your lenses. However, you should not use water to clean your case, use fresh solution to clean the case and dry upside down without the lid on before topping up with fresh solution when you want to store your lenses.
5. Take your lenses out before bed. Unless you have contact lenses that you have been told you can sleep in, you must remove your contact lenses before you go to sleep. Sleeping in contact lenses can lead to a corneal infection due to a combination of lack of eye and lid movement, less oxygen reaching the eye and a potential build up of pollutants on the contact lens.
One of the most important things to remember with wearing contact lenses is to attend your regular contact lens aftercare appointments. These appointments allow our optometrists to assess the health of the surface of the eyes, along with the fit and prescription of the lenses.
For more information about contact lenses, or trialling contact lenses contact your local MKO today.
More From The Blog
Catch up with the latest in eyecare and eyewear