Blog / Eyewear
Brand Of The Month for May - Oakley
Martyn Kemp Opticians Brand of the Month for May - Oakley.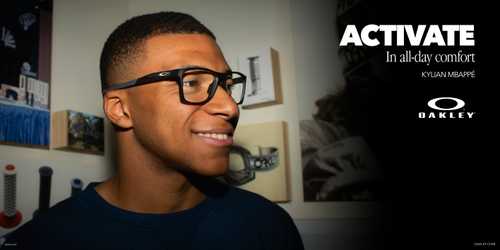 Our Brand of the Month at Martyn Kemp Opticians this month is Oakley!
Oakley are an American eyewear company based in Lake Forest, California. Beginning in 1975 with a $300 investment to founder James Jannard, the company began selling motorcycle grips, which were unlike other grips available at the time.
During the 1980s, the company began selling eyewear, more specifically goggles and ski goggles, which soon blossomed into the brand that is well known today.
Easily recognisable for their sunglasses and sports frames, Oakley has partnered with many different sporting franchises and teams, including members of the 2012 Olympic team, and Aston Martin's F1 Team.
Oakley frames have been worn my numerous sports stars including French footballer Kylian Mbappe, former Formula 1 driver and 4-time World Champion Sebastien Vettel, and professional golfer Rafael Cabrera-Bello.
During the summer months it is important to protect your eyes from the sun and the harmful UV rays, stop by our Herries Road and Stocksbridge practices to find out more about Oakley today!
Whether you're looking for sunglasses or optical frames, Oakley has you covered.
More From The Blog
Catch up with the latest in eyecare and eyewear